Frank Ocean - Channel Orange [Album Review]
This must have been the biggest month of Frank Ocean's life...
It all started when he posted an open letter to the world on his tumblr, revealing that his first love was a man. The letter read as poetically and poignantly as one of his songs and was intended to be his album thank yous - before rumours left him no choice but to release it. Two days later, Frank made his TV debut on Jimmy Fallon in one of the most mesmerizing and iconic performances I can remember. If the Tumblr post was his coming out letter, this was Frank's coming out performance; it felt like a huge weight was being taken off his shoulders as he sang "It's a bad religion, to be love with someone, who could never love you". You could have heard a pin drop in the studio. My friend said when he watched it he didn't want it to end, the ultimate compliment. It was the perfect way to announce the album and to announce himself, openly, as gay.
To top of a week of suprises, Frank released Channel Orange digitally the same day as the performance, a week ahead of schedule. The album starts with
'Thinking About You'
which is a bold move considering there has been a version of this track around for about a year. This is a new re-mastered crisper version with strings though and it opens the album with the smooth vocals and enticing lyricism which helped make
'Nostalgia, Ultra'
so popular. From here the album goes from strength to strength and evolves seamlessly through so many different moods and vibes.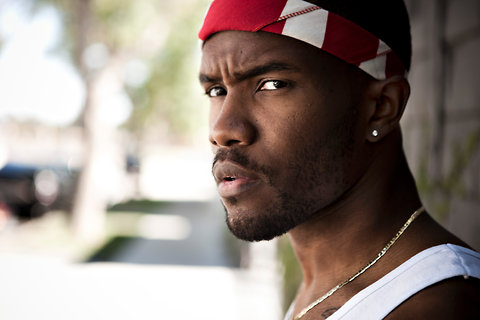 'Sweet Life'
and
'Forrest Gump'
are accessible and catchy enough to make it onto daytime radio playlists but that is to no discredit. Sweet Life in particular has grown to be one of my favourite tracks on the album. The vocal has all the making of a catchy feel good song and I can't seem to get the "Mango's peaches & Limes... Sweet Life" line out of my head. There's more to this track though, the bassline, keys and instrumentation are levels above those you would get from most R&B chart songs. Its tracks like Sweet Life which show Frank has found the enviable balance between chart accessible and musically credible on Channel Orange.
There's not a lot of featuring artists on this album and to be honest it would have carried easily with none. Having said that,
'Pink Matter

'
with Andre 3000 and
'

Super Rich Kids

'
with Earl Sweatshirt are two of the strongest tracks and both Earl and Andre's flow work so well on them
.
Lyrically this album has so many different vibes too, he goes from singing about spoilt teenagers taking "too many joyrides in daddy's jaguar" in
Super Rich Kids
to singing about broken homes and drug addiction in
'Crack Rock

'
- but it never sounds muddled or confused for a minute. The earlier mentioned
'
Bad Religion'
is probably the best ballad I have heard in years, and the lyrics not only have honesty and humility but also a poignant message. Gay marriage is one of the biggest issues in America, and with one of Americas most talented songwriters singing "I can never make him love me" and "It's a bad religion to have me feeling the way I do", I just hope it helps to change some people's attitudes on homosexuality - in the hip hop crowd at least.
'Pyramids'
, which is set to be the next single, is one of the more different tracks. It's an epic 10 minute concept song which on face value is about a prostitute based in Egyptian times. It could almost be two songs though because it slows and completely changes musically about half way through - it has the feel of a story which needs a film putting to it. This may well yet come true too because as Frank has been working with his long time photographer/videographer
Nabil
for the video. Nabil has done most of Frank's videos up to now and also produced epic videos such as NaS and Damian Marley's
'Patience'
and Kanye West's recent
'Mercy' video
so be sure to look out for that one.
'Nostalgia, Ultra' was fresh and different but it was full of samples and backing tracks; for me 'Channel Orange' has transformed Frank Ocean from a talented singer to an incredible songwriter, lyricist and artist - the full package. The only negative I can give this album is that I hate the way 'Pink Matter' with Andre 3000 ends so abruptly because it's so smooth up to that point - and possibly there's a bit too much ad lib, but that's it. He just has a way of making everything he writes sound and feel like you really should be listening to it rolling around somewhere sunny in a convertible. That's the ultimate compliment... a true summer viber.