Regular readers of AboutToBlow will know of our discernible fondness for Outlook Festival. There aren't many better moments during Festival season then the unified cheering of "Croatia – Croaaatiaa" as 15,000 revelers descend on to Pula's Fort Punta Christo for an experience that's incomparable to any other. With the line up complete & tickets now at 80% sold it seem's a fitting opportunity to break down the best of the Boat Parties on offer.
With exactly sixty four days to go & over forty-eight taking place, no Croatian festival experience can be complete without a voyage out across the dazzling Adriatic. Either during the afternoon, evening or night, with an incredible series of hosts including Metalheadz, Vagabondz, DJ Zinc & Shogun Audio to name a few. It's a list that quite simply doesn't let up so to ease the stress levels & to help make the decision process that little bit easier, we've picked out five parties you should definitely push the boat out for (excuse us):
5. Hot Wuk / The Heatwave
When it comes to Bashment The Heatwave are unsurpassed. It's a non-stop Dancehall party like nothing you've ever seen & where these guys go, the ladies follow. Always a guaranteed sell out, Hot Wuk is a shameless booty-shacking afternoon in the sun & a welcome alternative to the wealth of bass on offer across the other boats. A guaranteed banger each & every time.
4. Seedy Sonics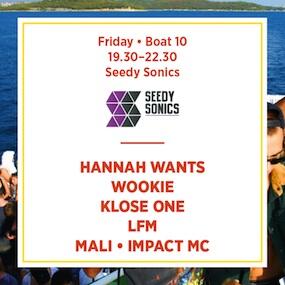 With a host of big names including Route 94 most notably leading the line last year, Seedy Sonics have progressively paved the way for stellar yet diverse line up's both on & off the water, & this year's line up proves no different. With Birmingham's Bass-heavy, girl-of-the-moment Hannah Wants topping the bill alongside Garage pioneer & legend Wookie expect UK vibes that span across the old & new. Furthermore with Swamp 81's brilliantly mercurial Klose One & Seedy Sonics co-founder Mali also on deck, expect nothing less than full throttle energy throughout.
3. Vagabondz
Over the years Vagabondz have built up a reputation for throwing some of the UK's biggest parties. With mammoth NYE line ups to a stage at Glastonbury, our fondest memory has to be the 2012 boat party with Lil Silva, New York Transit Authority & none other than Disclosure handling business. Needless to say the party continued once the boat was docked back at the harbour, which was definitely the first (& last) time this has ever occured. We can't think of many who put on better line ups & this year's is Bass-centric affair is no exception, with Madtech's Applebottom & Wilfred Girouxrunning riddim alongside Oscar Luweez & rising star Amy Becker. Expect all corners of the underground with Bass, Garage, House & UK Funky to dominate.
2. Butterz
When it comes to Grime, no one does it like Butterz. Having successfully curated their weekly Rinse FM show and more recently a Fabric residency series, everything label owners Elijah & Skilliam touch right now is turning to gold.
Alongside the talents of Flava D, Royal T & Swindle, Butterz have developed a sound that encompasses elements of Garage, Bass & UK Funky so masterfully its helped cement its status as one of the most exciting labels in the UK Underground dance music scene. With all of the aforementioned taking you through on the Sunday afternoon expect ridiculously high energy & a sound you're unlikely to hear anywhere else at Outlook this year.
1. Swamp 81
Not dissimilar to Butterz, Loefah's inimitable Swamp 81 imprint showcases a unique approach. A musically ambiguous movement of artistry that prides itself on bass-driven sounds that are often shrouded in secrecy. It's a movement so well executed the crew have just hosted their own stage at Glastonbury, yet for us it's there legendary presence at Outlook that bring's up back each year.
This year looks set to be bigger than ever with all the usual suspects in check; Loefah, Mickey Pearce, Paleman, Klose One & Chunky are confirmed for an afternoon that will undoubtedly span the label's catalogue alongside the accustomed mix of Bass, Garage & Hip-Hop. to put it simply, we highly recommend you get yourself on this boat.
Outlook Festival takes place between Wednesday 3rd and Sunday 7th September, remaining ticket's are priced at £140 and can be purchased here. For full Boat Party line up & ticket information click here.
Check out our highlights video from last year for a taste of what to expect.