Traversing over to the other side of the continent, another area of Africa's music that has also been celebrated more recently is that of Ghana via the imprint, Awesome Tapes From Africa. A music enthusiast from Brooklyn, Brian Skimkovitz travelled to Ghana in 2006 and became hooked on the cassette culture of the region. Street vendors played everything from West African disco and old left-field soul to curious local pop. Much of this style had never been heard outside of West Africa and Skimkovitz made it his mission to transform these obscure vocals into electronic signals for his blog and then label. He wanted to connect the western world with some amazing talent that had previously been overlooked.
He plays live using cassettes and tape decks including a performance at London's Field Day festival last year.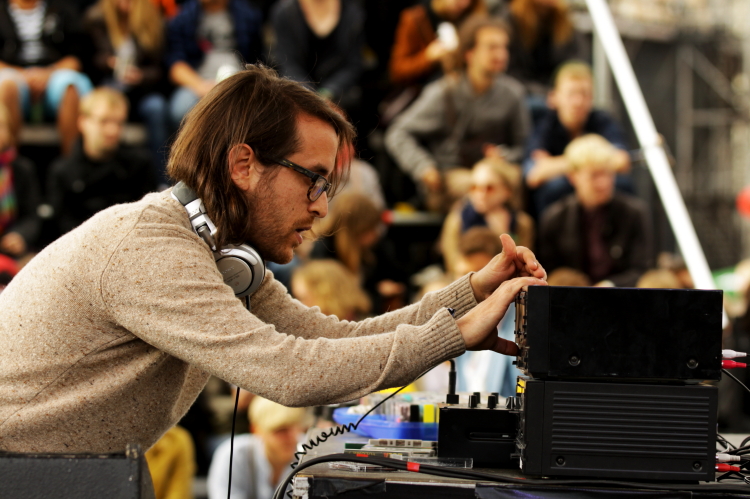 He would track down the originators of the cassette (which was not always an easy task) and ask their permission to transform the music to a digital format and reproduce it, giving them 50% of all royalties. "It came out of a feeling of enthusiasm for the music and diversity of talent but now it's become a way to help these artists get out there, make money and do things" says Brian.
A whole range of new styles was emerging from the continent, "that could easily be turned into Berghain kind of thing with the right producer". Brian recently came back from Ethiopia with 150 tapes of new styles he had never heard of previously but is dying to release via the label, he just needs to track down the original artists. "I've played a lot of techno parties where they want a change of flavour for one or two rooms" says Skimkovitz. In fact, what he has done for the evolution of the African scene is nothing short of ground breaking in terms of putting the region's music on the map on globally.
Artists like Vampire Weekend, MIA, Animal Collective and more began taking on African elements in their composition. Does this mean the current wave of artists and bands are abusing music from the developing world? It could be a positive thing and move both ways when the two worlds are connected. Musicians from Ghana blatantly copy music they hear from the US or the UK and interpret it in their own manner which is how new genres emerge, for example the huge flavour that has fairly recently reached the UK – 'Afrobeats'. Records see the support of leading DJ's spanning from Gilles Peterson to Prins Thomas.
There is an extensive mix of styles and textures that have erupted out of Africa, from Ghanaian proto-rap to South African 'bubble gum pop'. German techno stalwart Henrik Schwarz is remixing the likes of Ebo Taylor, Emmauel Jal and Baaba Maal as Berlin promoters Nomad and Dirl Leyers are putting parties like 'Vulkan Dance' in place. The electrified cuts of 808 from Africa is clearly working as the party is still going strong after eight years.
A different sound is rising up from Ethiopia. Tribal, religious and jazzy sounds mixed with UKG beats form what is known locally as Ethiopian Electronic and is another illustration of the crossover with the Western world. It is perhaps the combination of electronic production and traditional Ethiopian music. It is all about the microtones and poly rhythms and is truly irreplaceable; you simply cannot synthesize them. Conceivably, it is the confrontation of the old and the modern which is a sound that draws on influence from Kode9, Burial and Flying Lotus and is being pioneered by Endjuena Mulu of Ethiopian Records and Mikael Seifu.
 "It's the way we speak today", explains Mulu. "Most samples I use are recorded, resampled and processed from my friends or myself. I also use field recordings of the festivities from around the neighbourhood. Ethioiyawi Electronic doesn't represent a genre, I think it refers to what we do technically and refers to the process and not the outcome."
"What fascinated me was that you could produce music from a computer, that was liberating. Listen to the music. Forget the labels, even if you found them in a certain section of a record shop. Close your eyes and try to feel what the music is doing to you. Connect with the work – with the piece of music like you should."
 Both artists are also offering up their studios and equipment for use to the local kids. They encourage them to absorb what is going on around them and reinterpret it in their own fashion. Ethiopian Electronic promotes tradition but at the same time, provides something new and refreshing. Indeed, some of the instruments are as old as the country itself.
"What I'm most excited about now is actually playing my music live with traditional instrumentalists. There are so many things but live performance feels like the natural step." Mikael Seifu played at Sonar. Indeed there are many festivals taking place across Africa; with the birth of Oasis in Morocco (which is growing bigger and boasts a more competitive line up each edition) and Sandbox, Egypt which is now in its fifth year. South Africa's main export, Black Coffee was named 'Breakthrough DJ of the Year' in 2015 at the same time as Africa won 'Dance Nation of the Year'. The scene is quickly gathering impetus and establishing their own identity.
It is now clear that there is a creative network of forward thinking artists who are uniting to deliver chopped up versions of traditional folk, fractured with more modern beats using any equipment they can get their hands on and the result is insatiable. The dance scene in Africa has always been a force to be reckoned, only now it is being recognised on a global scale.
Words by Oli Cruttenden