Off-Week BCN (Sónar Guide 2015)
Our favourite season is almost here and that can only mean the floodgates are open to the flurry of new indistinguishable festivals with all too similar line-ups. The summer forever holds lots of promise yet rarely do the 'new festivals on the block' compete against the experienced heavy hitters who consistently outdo themselves year on year. With this in mind this year we turn our attentions to Barcelona's legendary Sonar, the mature and eclectic festival famed for its overall experience, beach-city location and history where many of the greatest DJ's have showcased their raw early talents.
Sonar is a festival not scared of making entertainment statements and in doing this has created some priceless memories and some golden recordings preserved in its archives. In recent years, Sonar has delivered us techno-pioneering Kraftwork in 3D, a sell out outdoor peformance from Chic last summer, and a triumphant headline comeback from Massive Attack accommodated in Barcelona's abandoned hanger. With such heavy praise heaped on the 'Sonar experience' it's the increasingly popular 'Off-Sonar' parties – which continues the culture of Sonar well after the festival's finished for the night – that we turn our attentions too, having caused quite the storm over recent years.
Off Week takes advantage of some of Barcelona's most prestigious venues during mid June with some of the best label curated parties around this summer. With this in mind we've dissected the calendar of the best events coming up to pull together our own AboutToBlow guide of guides that outline exactly where you should be from Wednesday 17th June till Sunday 21st June.
Wednesday 17th June
Electric Minds x Mono_cult
Venue : BeCool
Move D, Midland, Leon Vynehall, Dolan Bergin, Matt Long Room 2: Mosca (4 Hour Set)
Tickets: RA
Electric Minds and Mono_Cult know how to throw a party, Barcelona style. Last year they hosted Bicep, Deetron, Move D, Roman Flugel, Midland and Tama Sumo at the almighty super club Razzmatazz for 7 of the finest hours during 2014's Off-week. This time they are back for their 4th year running at BeCool for a more intimate stage with Move D playing his only set of the week alongside two our favourites – the pioneering Midland and the adaptable Leon Vynehall.
Thursday 18th June
 Resident Advisor
Venue : El Monasterio of El Poble Espanyol
 Line up : Andy Stott (live), Erol Alkan, Jackmaster b2b Gerd Janson, Felicita, Leon Vynehall, I-F, Pearson Sound
Tickets: RA
Resident Advisor and IR are joining forces this year for a 9-hour offering of some of RA's most prestigious players. Accommodated in the grand El Monasterio of El Poble situated in Barcelona's centre which overlooks the city, it is certainly one of the most unique party spots in the whole of Europe. The line-up features downtempo master,Andy Stott live, Phantasy Sound man Erol Alkan, PC Music affiliate Felicita, The Hague's kingpin for grubby electro I-F, Hessle Audio co-founder Pearson Sound, 3024 artist Leon Vynehall and Running Back's Gerd Janson, who is playing back-to-back with recent ORIGINS film subject Jackmaster. No doubt it will be one of the greatest spectacles at this year's Sonar 'Off-week'.
Numbers BCN 2015
Venue : Nitsa Club
Line up: Jackmaster, Spencer, Optimo, JD Twitch, JG Wilkes, Lory D, Adesse Versions, Kornél Kovács
Numbers return to Barcelona's Nitsa Club again for their annual off-party extravaganza this year with Team Glasgow that consists of Jackmaster, Spencer, JD Twitch, and JG Wilkes culminating together for a Numbers x Optimo éspecial. Last year Hudmo and Redhino kicked the roof down and this year it promises to be even greater as Lory D will be performing a live set (check his recent set at the Numbers x Boiler Room) with man-of-the-moment Adesse Versions joined by future label release Kornél Kovács of Studio Barnhus rounding off the bill. In true numbers style expect surprises on the night.
Moda Black vs Avotre
Venue : The Warehouse
Line up :
Andhim, Ben Pearce, Darius Syrossian, Jaymo & Andy George, Richy Ahmed, Russ Yallop, Santé, Sidney Charles
Tickets: RA
The Avotre label x Moda Black showcase offers up a beast of a line up if you're into tech house and groovy techno crossovers. This danceable format and stellar line up will be unmissable with the formidable trio of Darius Syrossian, Sidney Charles & Sante alongside the likes of Andhim, Ben Pearce, Jaymo & Andy George, J Phlip, Richy Ahmed, Russ Yallop and Theo Kottis all bringing heat on the night. Feel-good grooves and vocal house mixed with big room bass, having spoken with label owner Sante earlier this month rest assured this is one party you won't want to miss.
Friday 19th June
Ker presents Catz Eats Kink Day & Night party
Venue : KER Club
Line-up:
Eats Everything, Catz N Dogz, KiNK (live), ItaloJohnson, San Proper,Richy Ahmed, Jay Shepheard, Beesmunt Soundsystem,
Tickets: RA
This day and night party is without a doubt one of the biggest double header and label collaborations taking place at Off-Week BCN 2015, with Eats Everything, Catz N Dogz, KiNK (live), ItaloJohnson, San Proper, Richy Ahmed, Jay Shepheard, Beesmunt Soundsystem, Tom Rio, Dan Wild, Alex Pott, Ion Pananides with more still to be confirmed.
Kicking the party off on the 'sunset BBQ terrace' that overlooks the Mediterranean Sea you can catch bass/house specialists Catz N Dogz & Eats Everything for a special sun drenched B2B as well as Pets Recordings artist Jay Shepheard alongside Just Juck residents Tom Rio & Dan Wild.
Once the sun has set and the party moves inside, there will be 2 rooms ready to crank things up a notch with Richy Ahmed, Jay Shepheard, Beesmunt Soundsystem as well as the technology extraordinaire that is KiNK whose live shows are always a great spectacle. To round things up there's a very special B2B2B with Catz n Dogz and Eats Everything as they showcase their now infamous Catz Eats Kink live show.
Get Smash! Bcn OFF Week #2
Venue : Esferic Bcn
Line-up :
A Guy Called Gerald (Live in Session), Tom Trago, San Soda, Horse Meat Disco
Space Dimension Controller, Young Marco, Mr. Ties, Selecta Bros(A Guy Called Gerald + DJ JB)
Tickets: RA
A party in one of the most unique venues we have ever seen, this party in a disco spaceship will certainly be unlike any others during off-week. 12 hours of house, disco, soul and techno from some of the finest artists from UK, Amsterdam, Berlin and the US. The legendary A Guy Called Gerald will be playing  his Chicago House meets Detroit Techno with added UK dance fusion, no doubt throwing in some of his genre defining classics, then followed by the Dutchman Tom Trago, the internationally renowned DJ, producer, live performer, label owner and all round music veteran as well as San Soda who under numerous monikers, has been spreading his sound through several genre's and clubs such as Panorama Bar. This already mammoth line up continues to impress us with the addition of the famous Horse Meat Disco who have been selling out parties world over, channelling their unique fusion of 70s, 80s and 90s deep disco, punk funk, house, electro and splashes bit of techno.
Egg LDN OFF Week 2015
Venue : Carpe Diem
 Line-up : DJ Pierre, Hector Couto, Cuartero, Kyle E
Tickets: RA
EGG LDN is bringing its unique party atmosphere and underground sense of fun to OFF WEEK this year. Taking place on June 19th at CDLC Barcelona, the half beach half high-end nightclub that has been listed as one of the best venues in Europe for its location and design. On the night the charismatic and legendary acid house pioneer DJ Pierre takes to the booth just ahead of the Spanish groove specialist Hector Couto, shortly after joined by Spanish resident Cuartero and house DJ Kyle E.
Saturday 20th June
IR & Dekmantel
Venue : Plaza Mayor de El Poble Espanyol
Line-up:
Dixon, Ben Klock, Nina Kraviz, Levon Vincent, Joey Anderson
16.00-18.00 Joey Anderson, 18.00-19.30 Levon Vincent ,19.30-21.00 Nina Kraviz, 21.00-23.00 Dixon, 23.00-01.00 Ben Klock
Tickets: RA
Joseph Capriati presents: 100% JC -Techno OFF Week
Venue : Bloc
Tickets: RA
A night dedicated to the dark and groovy side of techno and tech-house, this '100% techno' party at OFF see's Italian producer and all-conquering DJ Joseph Capriati playing all night long at Bloc, BCN. 100% techno are running a series of events from June 16th to 21st, where techno reigns supreme so make sure to look out for all of them. If techno is what you're into then 100% week is for you.
PIP presents Red Light Radio & Friends
Venue : Vetro Club
Line-up :
Marcellus Pittman, Ron Morelli, Makam, Steve Rachmad, Shed (live), Boris
Mystery Guest (Hinge Finger), Syracuse (live), San Proper, Interstellar Funk
Tickets: RA
PIP Presents Red Light Radio & Friends is the Dutch take-over at the super fancy picturesque venue that is Vetro (evidence below). Pip Den Haag & Red Light Radio are joining hands for an epic session that starts at 4pm and goes on till 6am. Expect this delightful gathering to be one to mark down as one of the hidden gems during Off-week. Detroit's groove master Marcellus Pittman plays alongside Ron Morelli, the illustrious Makam, the famous Dutchman Steve Rachmad and the multi-talented genre killer that is Shed doing a live set (not to be missed!).
Sunday 21st June
IR & Dekmantel
Venue : El Monasterio of El Poble Espanyol
Line-up :
DJ Harvey, Motor City Drum Ensemble , Juju & Jordash (live), Dekmantel Soundsystem, IR-Hythm
Boiler Room
Ben UFO, Makam, The Mole (live), Solar, Sassy J, Moreon & Baffa+Surpises
 Tickets: RA
Arguably the perfect closing party to any week of hedonistic raving, fittingly taking place at the classy El Monasterio, a space that offers views of the whole city. Dekmantel & Indigo Raw join forces again but this time for a more intimate affair than the Plaza extravaganza with Ben Klock and Nina Kravitz. This is the sunset's perfect line up headed by ultimate party selectorMotor City Drum Ensemble, Juju & Jordash (live) as well as everyone's favourite DJ Harvey.
Boiler room have also joined in on the act with their own addition to what is going to be a great closing spectacle with another carefully curated line up. Ben UFO will likely emulate what he did on Dekmantel 2014 closing day with an extended set along with Makam, The Mole (live), Solar, Sassy J, Moreon & Baffa and a huge surprise that we have sworn not to reveal.

Secretsundaze 10 Years in Barcelona Party:
Venue : Poble Espanyol Picnic Area
DAY @ PIC NIC AREA / 3pm-1am
Derrick May, Ryan Elliott, Nick Höppner, FunkinEven, Hunee b2b Antal, James Priestley
NIGHT @ LA TERRRAZZA / Midnight-5.45am
Delano Smith, Jeremy Underground, Amir Alexander, Giles Smith
Tickets: RA
SecretSundaze are celebrating 10 years in Barcelona with easily one of their biggest line-ups ever. This is a double-headed event hosted at the charming picnic area by day to see the event into the sunset and then off to La Terrrazza by night, the open-air club just a few minutes walk away where the party continues till 6am!
Headlining the day party is one of the founding godfathers of Detroit house and techno, Derrick May who is always a guaranteed spectacle to whiteness play as there's not much he doesn't know about throwing a good party (watch here). He is joined by fellow Detroit veteran and Panorama Bar/Ibiza's DC10 regular, Delano Smith, Parisian selector Jeremy Underground Paris who's eclectic tastes and 'slammin' 90s' label MLIU releases are sure to mark the perfect sunset soundtrack. Berlin based Ostgut Ton artist and Panorama Bar and Berghain resident Ryan Elliott also joins the bill and has recently become Europe's most trusted DJ's for groovy techno and rare house. London artist FunkinEven also adds his sprinkle of classic Detroit, obscure soul and funk mix with snapping drums and techno basslines. Naturally, both secretsundaze residents Giles Smith and James Priestley will also play. Two of the best residents in the business, 2015 is looking like another strong year for the duo, be sure to check out our interview with the guys earlier this month.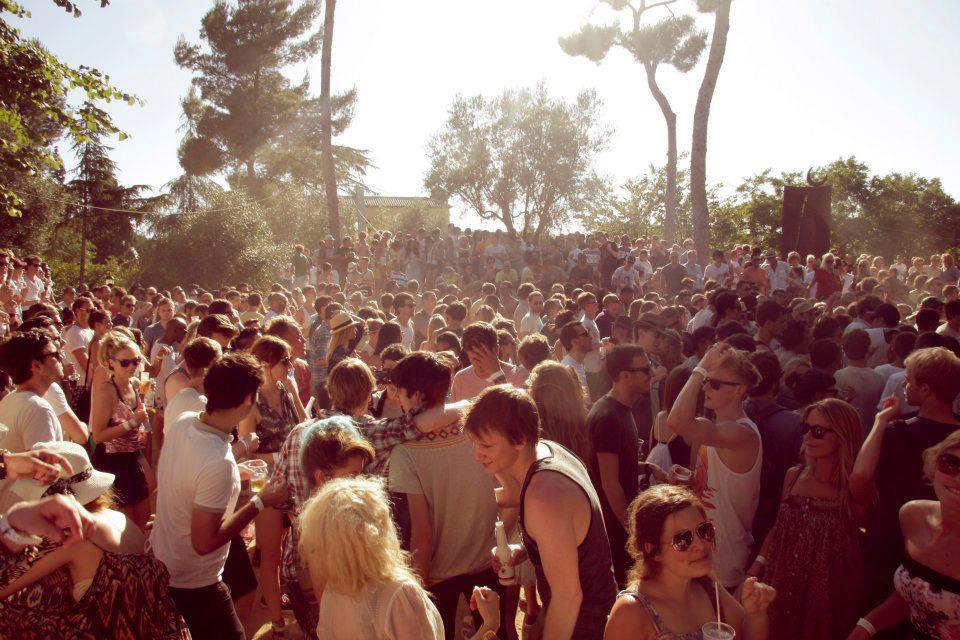 Singermorning Festival
Venue : Elrow
Line-up:
Line up : Paco Osuna, The Martinez Brothers, Adam Shelton, Alex Pott,Bodycode, Craig Richards, De La Swing, Edu Imbernon, George Privatti, Ion Pananides, James Cotterill, Los Suruba, Marc Maya, Mario Biani, Patrick Topping, Richy Ahmed, Skream, Subb an, Tom Craven,Toni Varga, Trus'me, Uner, Dani Rivas, Danniel Selfmade, Darkrow, Djeep Rhythms, Gabriel D'or & Bordoy, Hollen, Ivan Pica, Mirko FlowerPedro Silva, Stefano Kosa.
Tickets: RA
Its Elrow's 5th Anniversary and they are celebrating with Singermorning Festival to round up Barcelona's Off-Week in style. Boasting one of the most star-studded line-ups of the entire week in one of the most glamorous yet hidden-away venue's located just outside the city (10-15 minute bus). In true Elrow style expect props, inflatables, streamers, dancers and of course some of the best DJ's around all celebrating the end of the week. Tickets are selling fast! Be sure to buy from Resident Advisor above or the Elrow site here.