Twenty-four years ago, Geto Boys typified a sound that was to come, releasing Mind Playing Tricks On Me and creating an instant Houston HipHop classic. Separating itself distinctively from other hip hop in the early 90s, the song had lazy, harmonic guitar samples. The slow, blues influence contrasted the often angry, protesting up-tempo nature of a lot of hip hop at the time, and it gave birth to the Houston rap scene.
Producer-legend and Houston native DJ Screw soon followed Geto Boys, creating an almost exaggerated version of what had preceded him, playing records at nearly half-speed and creating the Screw genre. This was encouraged by both the city's heat and laid-back lifestyle, with cough syrup probably playing a part in slowing the sound of rap music for the first time and, with candy-painted cars and drug-dealing, it told a story of a culture hidden from the rest of the world. In the next decade, the Houston rap scene boomed, as rappers talked of racist cops, hot summers and thick-bodied women; creativity and crime were sky high, the economy and rap beats were screw-slow. Long Live Screw.
Just as Nirvana made Seattle the capital city of grunge, rarely had there been such an important movement happening musically in one place, and this slow, sticky-style of hip hop became home to Houston, embodying its culture by the people who understood it most.
In the 2000s, rap trio Jim Jones, Paul Wall and Slim Thug released the powerful Still Tippin'; it's elegant returning violins and hauntingly repetitive hook-sample is a perfect tribute to hip hop gospel and blues origins. The track is probably one of the most important on the Houston rap timelime and its unhurried, emotive listen tells a story of death on the streets, and a life in prison.
Other important rappers to have originated in Houston include UGK member's Bun B and the late Pimp C, true pioneers in the Southern rap game. Current rappers RiffRaff, Maxo Kream and of course, the very relevant Travi$ Scott have been the latest artists to keep the Houston fire burning, with rappers A$AP Rocky and Drake also paying tribute to the importance of Houston culture in rap music today.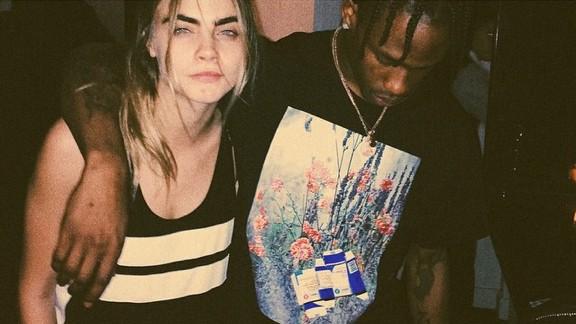 23-year-old Travi$ Scott (née Jacques Webster) is perhaps the most exciting artist to emerge from Houston recently and, after his impressive Owl Pharaoh and Days before Rodeo mixtapes, his debut effort is ready to drop. And everyone's pretty amped.
With social media plugs from Future and Kid Cudi, and an amusing Scott-doll album artwork release, anticipation for Rodeo has been growing. And Scott's soundcloud keeps dropping bangers. Earlier this year fans were treated to the High Fashion Future-collab and Nothing But Net featuring Young Thug and PartyNextDoor. Best of the bunch though, was Antidote; catchy, melodic and nuanced by auto-tune, its repetitive hook gives the track depth, whilst the production is spot on. Perhaps one of the rap tunes of the year, and quite possibly something both Pimp C and Screw would have endorsed.
Scott spits harmoniously:
"I just did a three peat
F*cked three hoes I met this week
I don't do know old hoes
My nigga that's a no-no
She just want that coco, I just want dinero"
It's an addictive listen, one that gets better the ninth and tenth time.
It seems to be the era of the rap weirdo, something that Young Thug has exemplified in his short and innovative career, with other rappers such as Fetty Wap perhaps following suit. But Scott seems to tread somewhere between the Thugga/Fetty-type rapper and a more credible artist; and this is largely due to his skills as a producer. Scott is the full package, his production credits include three tracks on Cruel Summer and Yeezus, and Rhianna's 2015 hit single B*tch Better Have My Money.   He's young, creative and wants to represent his city's culture, all the while respecting its hip hop origins.
The art of Rodeo is the official state sport of Texas, and Houston holds the annual long-standing Houston LiveStock Show and Rodeo. In case you're not a massive Rodeo junkie – it's a sport comprised of various cowboy-associated events, including bronc riding (hanging on to an angry, bucking horse), bull riding, barrel racing and tie-down roping (yes, lassoing a cow). You too are probably concerned about animal welfare and treatment in such activities. Not Scott – he bloody loves it.
'It's like a Beyonce concert' Scott said in an interview with CR Fashion Book. Though, there are not too many obvious similarities between the two (I've been to both a rodeo and a Bey concert).
'The Carnival, the livestock, and the show are all parts of the event. I feel like that's how my life is. ' 
'The Carnival is like my imagination –it's the drive behind my vision. Even though I don't feel like I'm at a point where my sh*t is at an all-time high, we're working to get there… The livestock show is the road to get to where im going. At this point, I'm riding a bull for just eight seconds and its hard as f*ck. But we made it.'
Nonsensical, drug-fueled and creative, Scott's Rodeo analogy once again paints a picture of Houston, in this instance it's cowboy heritage. Rodeo drops September 4th. Listen to Travi$ Scott – Antidote below via soundcloud.